Fri 14th Jun - Sat 15th Jun 2019
---
Starts 00:00 hrs
---
---
---
---
---
Description:
A funny, moving and stomach-churning moving coming of age story, set in the Scottish rave scene of the mid-90s and featuring an eclectic and electrifying soundtrack.
Best mates Johnno and Spanner are on the cusp of adulthood, and life is pulling them in different directions. In pursuit of adventure and escape, the boys head out on one last night together.
Running time: 2h01, including ads and trailers.
To purchase tickets, click on 'Visit Event Website'.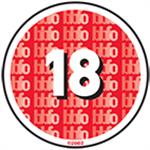 Please be aware you must be aged 18 or over to see this film, and you may be required to show photographic I.D. to gain entry to the cinema.